What is it?
A full day stroke correction clinic for juniors and teenagers on butterfly, backstroke and breaststroke. Each swimmer will have underwater filming and video analysis for each stroke, go through drill progressions and exercises with feedback from coaches to improve their technique and efficiency. In a maximum class size 12 with a maximum of six swimmers to one coach, swimmers work on specific aspects of their stroke with regular feedback throughout the clinic. All clinics are run by Effortless Swimming coaches who have competed at or coached at a National or International level and have experience coaching all levels of swimmers.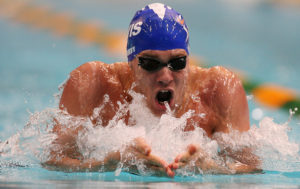 Who's it for?
Swimmers 9-18 years of age* who are looking to improve their technique in a small class size with regular feedback.
*Swimmers between 9-11 y.o must have State qualifying times in at least one event.
What they'll learn during the clinic:
The key fundamentals of each stroke giving the swimmer a better understanding of how the stroke works and where speeds comes from
Comprehensive video analysis above and below the water for all three strokes which is recorded and emailed to you after the clinic
Finding the natural rhythm and timing of the stroke for better efficiency and pacing
How to develop feel for the water and why most swimmers miss the 'elusive' catch
Building a rock solid kick for maximum propulsion
How to implement and maintain their new stroke changes into daily training
Price:
$349 (includes a copy of their underwater filming and recorded video analysis of all three strokes)
How many spots are available?
Each clinic is capped at a maximum of 6 swimmers
Locations and dates:
New Clinics Coming Soon.
Is your city not listed above? Let us know where you'd like us to visit next. 

Testimonials
"My daughter attended the clinic on the Gold Coast yesterday. Both guys were absolutely delightful, professional, knowledgeable and great instructors. Both are clearly passionate about what they do as demonstrated by their ongoing conversation about techniques even in their lunch break. A fabulous experience for our daughter, thank you." Anne Ellwoods, Gold Coast
"Well I am truly amazed. Sam and Mitch were brilliant – thank you so much, I am an advocate! Maddie was made feel so comfortable that she wanted to give them a hug to thank them at the end! Unlucky for them – it was a wet one!! They were wonderful and provided so much feedback and technical changes – I am sure she her times will only improve." Kim Thompson, Gold Coast
FAQ's
Can I book my child in to a clinic for one stroke only?
From our experience age group swimmers can change their best stroke a number of times over the years until they fully develop in their late teens and early 20's. We encourage swimmers to practice all four strokes, because you never know until later in their swimming career which stroke can become their 'best' stroke. This is why we currently offer bookings only for the whole session where cover butterfly backstroke and breastroke.
Do you offer freestyle clinics?
Yes we do! Because it's the most common and complex stroke we run freestyle clinics separately to the form stroke clinics. Click here for more information on our freestyle clinics.
What equipment is needed on the day?
We require swimming to have flippers (preferably DMC Elite Training Fins) and a front snorkel (like the FINIS or Speedo snorkels).
Is lunch provided?
Because of food handling regulations we can't provide food on the day so we recommend packing lunch and some snacks like fruit and muesli bars for your child.
Who are the coaches?
All Effortless Swimming coaches have competed at a National level or higher and also have coaching experience. The coaches at these clinics are Sam Ashby (Australian Team in the 100m butterfly at 2011 World Championships), Mitchell Patterson (Commonwealth record holder for 100m Butterfly (SC)) and Ben Geard (coach of multiple National Age Group Medalists).
Got Questions?
Call us on (03) 9028 7965 or contact support
Cancellation policy – Because most clinics sell out we require 7 days notice if you can't attend the clinic. If we can fill your spot we are able to provide a transfer to a future clinic.