Podcast: Play in new window | Download
I have been getting a lot of questions lately about losing weight and swimming and do the two go together. The thing about losing weight is the majority of it comes down to what you eat and how much you eat. Swimming can play a good part in losing weight and maintaining weight but the majority of it comes from what you are eating and how much you are eating. The Dieticians Association of Australia say that 70% of it is how much and what you put into your body and 30% of losing weight is the amount of exercise that you do.
00:13 – Diet
00:50 – How to Tone Up
01:20 – The "5 Minute Salad" Recipe
01:31 – Visit
Effortless Swimming Membership Program
If you really want to get the benefit of exercise and losing weight, you need to exercise for 60-90 or more to burn enough calories to make a difference to your weight. If you are exercising for only 30 minutes a day then you will feel good but you won't get that benefit.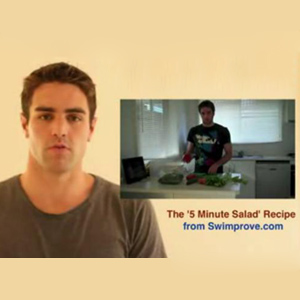 If you are looking to tone up, look fitter and look better then you need to look at doing some sprints and some harder work rather than the long aerobic slow swimming. If you look at the distance swimmers, the majority of them have a little bit of extra weight on them as opposed to the sprinters and the middle distance guys. When you are training and only doing long aerobic swimming which is slow, and you want to tone up then take a look at doing some strength work, some speed work in the pool and exercises that will get your heart rate up in the pool.
In our online coaching program, every now and then I add some videos and some recipes of what I like to eat and what I have found works best for energy in the pool but also keep your weight down so that you can swim at your optimal level.
If you are looking to get a bit more insight into what you should be eating to become a better swimmer then take a look at Effortless Swimming Membership Program.
---