Do you love to swim? If you do then a Swim Trek holiday will tick all your boxes for an amazing holiday. I've just arrived home from a Swim Trek in Kas, Turkey. If you haven't heard of Kas then think warm water…sunny skies…good food…and a relaxed atmosphere.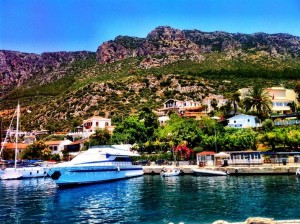 The Swim Trek went for 7 days which was a perfect amount of time. After a few days of 5-6km of swimming you start to feel fit and the swimming becomes easy. The water temp was 25-27 degrees and the outside temp was 35 on average. We had a group of 16 swimmers and with two Swim Trek guides, Mia and Sean. They make sure the trip runs smoothly and organise everything.

Unlike most holidays where you arrive home and feel like you've eaten and slept too much…a Swim Trek holiday will leaving you feeling refreshed and fit.
The typical day would consist of buffet breakfast overlooking the ocean…jumping on a boat and heading to part of the coastline…swimming for 90 minutes…a massive lunch of fresh fish and salads on the boat…reading a book and a short nap in the sun and then another 60-90 mins in the water.

We were split up into three separate 'speed' groups so you swum with people your own speed. This meant that no one was too fast or too slow.
The cost of most swim treks is under £1,000 British Pounds and generally includes accommodation, breakfast and lunch…and of course the boat trips to the coast.

The good thing about Swim Trek is they use trusted hotels and boats providers and their safety record is perfect. Copy cat companies have recently started up which I have heard nightmare stories about. Swim Trek is the original 'swimming holiday' company. Swim Trek also run tours in Greece, Egypt, Sicily, Croatia, Mexico, Scotland and Finland. If you've been on a SwimTrek holiday before let me know in the comments section below!
If you're interested in doing a Swim Trek you can contact them through their website at www.swimtrek.com. If you want improve your freestyle technique before you go check out the Mastering Freestyle program.
---