Podcast: Play in new window | Download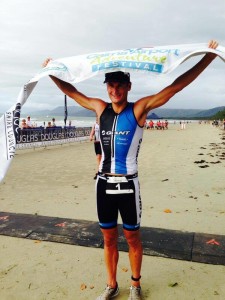 Clayton Fettell has one of the best techniques in all of triathlon swimming. He finished in the front group at the last Ironman World Championships in the 70.3 distance. He has won multiple 70.3 races and he is a professional triathlete.
In this podcast, we talk about technique, strength training, some of his favorite workouts and how he sees swimmers being able to break through their plateau or speed barrier and really take that next step with their swimming.
02:26 – Have you always been a good swimmer?
03:19 – The Best Looking Stroke in Triathlon
03:38 – I Remember watching Uncle Toby's
03:50 – Why Swimming Like The Cool Kids Made Him Slower
04:22 – Learn from the Sprinters
04:50 – It's a lot of hard work…
05:37 – Know thyself.
05:46 – Why You Should Use Your Strengths
06:04 – Is perfection achievable?
07:24 – Head Position Makes a Big Difference
07:57 – Remind yourself to put your head back down
08:10 – The Art of Low Breathing
09:17 – "The Sneaky Breathe"
09:46 – How Strength Training Helps Your Swimming
10:37 – Activation = Great Session
11:30 – Stability is key
12:25 – Clayton's Gym Activities
13:34 – How to Work on Your Flexibility
14:27- Not Sexy But Important!
14:29 – Clayton's Go-to Sets
15:49 – What to do when boredom strikes
16:11 – Why he trains with mates
17:07 – Does wearing a wetsuit affect your performance?
18:05 – How To Transition from Pool Swimming to Open Water Swimming
19:00 – Relax. Don't worry about sharks.
19:43 – How The Pro's Break Down Their Swim Leg

Visit Clayton's website –  www.cfracing.com.au  or www.claytonfettell.com

Watch out for The Art of Triathlon DVD coming this month! It includes a footage of Clayton in action under the water. You'll see a good look of where he gets his propulsion from and how he swims so efficiently!
Be the first to hear about the launch of The Art of Triathlon – sign up here: www.effortlessswimming.com/artoftriswimwaitlist
---