Podcast: Play in new window | Download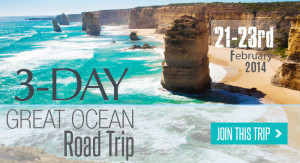 In this podcast, my guest is Aaron Davis from Venture. Aaron runs an adventure travel company . He is the one running the behind the scenes logistics for The Great Ocean Road Trip in February 2014. The reason why I am running this trip with Aaron is because I want to be able to focus on the coaching aspect of things  and on the people that come with me on the swimming holidays that we are starting this year.
01:00 – Adventure Travel
01:45 – Swimming Holidays = Fun + Fitness
03:00 – The Reason Why I Want to Run Swimming Holidays
05:00 – Get more hands-on coaching.
06:30 – "I learned new things up there!"
06:57 – Stuck in a rut!
07:21 – Be with like-minded people.
09:52 – "It's like you have known each other for years!"
10:55 – Sad Goodbye.
12:15 – Benefit of Exercise to Your Mind, Body and Soul
13:18 – "Without the physical element, it is not that exciting."
14:50 – Enjoy Something You Really Love
15:47 – Social Lubricant: Nice Food
16:18 – "I got my Speedos, my funky trunks packed and a pair of goggles!"
18:00 – The Great Ocean Road Adventure on 21-23 February 2014
19:00 – What is Going To Happen?
20:36 – On Saturday…
25:00 – As long as you can swim confidently, that's fine.
25:24 – If you get easily fatigued, wear fins!
To book for The Great Ocean Adventure, CLICK HERE!
---