Podcast: Play in new window | Download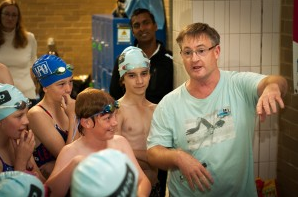 Wayne Goldsmith is a thought leader in the swimming coaching community. We talk about Ultra Short Race Pace Training (developed by Brent Rushall) which is starting to become a more widely used training method. I came across an article about a young swimmer in the US called Michael Andrew who is breaking age group records and swimming very quick times for a 14-year-old. His training is solely ultra short race pace training. Listen in as we discuss the pros and cons of the method and where we see it taking the sport.
00:58 – What is Ultra Short Race Pace Training?
01:40 – Concept of Specificity
02:40 – Why do so much volume?
03:15 – H. V. O.
05:10 – More training targeted at T.R.P.
06:45 – Break out of the mold.
07:24 – "Changing what we believe works!"
08:23 – Everyone is looking for short-cut solutions
08:47 – Focus
09:30 – Big Corp VS Start-up
10:28 – The secret to success is to make sure that…
11:18 – My suspicion…
12:59 – Which types of athletes are suited to ultra short race pace training?
14:30 – The keyword – aerobic work.
14:59 – Swimming effortlessly is very important
16:16 – Cut it down to slow, easy, relax, smooth action in the water.
17:00 – Common sense
17:50 – Core of my program: flexibility, mobility, stability…
18:18 – When you are fatigued, rest.
19:15 – Sample set: 100 Freestyle: Break it down to 10 25s
20:30 – T.U.F. Training are for knuckleheads
22:00 – More control over performance.
23:00 – Confidence = Belief x Evidence
26:16 – What's the right taper for each individual swimmer within a squad?
27:30 – What's the downside?
29:00 – Less injury. More fun.
30:50 – How appropriate is it for master swimmers and senior triathletes?
34:35 – The faster you want to go the more relax you want to be.
35:20 – We need to have a CHAMPION!
Visit Wayne's upcoming websites: www.wgaquatics.com and www.wgcoaching.com
---