Podcast: Play in new window | Download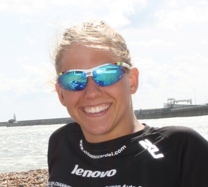 Being the second female and second Australian to complete a double crossing of the English Channel, Chloe McCardel is one of Australia's best marathon swimmers. She's won the prestigious 46km Manhattan Island race and is now gearing up for a triple-crossing of the English Channel.
In the podcast Chloe covers:
How to adjust to cold water for open water swims
The one change she made to her diet that helped her swim the fastest channel time in 2011
Why breaking up all tasks into smaller size chunks can improve your mental toughness in races
Keep up to date with Chloe's training and preparations at ChloeMcCardel.com.
Subscribe to the Effortless Swimming Podcast on iTunes
*Correction: Chloe would actually be the 4th person, 1st Australian and 2nd female to complete a triple crossing if she is successful in her attempt not the 2nd person ever as I mentioned in the introduction.
---