Podcast: Play in new window | Download
https://svpford.wistia.com/medias/gs61y7pahh?embedType=async&videoFoam=true&videoWidth=640
We are in Trinity Beach up at North Queensland on a training camp; hence the nice background. This week we are looking at a common mistake that slows swimmers down in freestyle. We are looking at which GPS is best to use if you are doing open water swimming and we also look at how to choose the right wetsuit
00:23 – Keep A Level Head
00:48 – My Hot Tip For Faster Freestyle
01:04 – The Garmin Forerunner 910 XT
01:25 – How Do You Choose A Wetsuit?
01:49 – Swimming For Parents
02:10 – Swim Camps Are Training On Steroids
Our Most Popular Program For Improving Your Freestyle
Keep A Level Head
When I am doing private lessons with people one of the main mistakes I see made is that swimmers will dip their head under the water. They will have it above the water and then every couple of strokes they will dip down under which will slow them down. If you are doing long distance swimming you are best to keep you head nice and even in the water so you are not going up or down and keeping it straight. That will mean that you are swimming faster and be more consistent with your stroke.

Shoulders Back and Chest Out
One of the main things I tell swimmers to do I swim with their shoulders back and chest out so that will put you in the right position in your freestyle to swim with good technique. New swimmers usually tend to hunch forward but if you have your chest out, shoulders back you will be in the right position for good technique.
The Garmin Forerunner 910 XT
The Garmin Forerunner 910 XT seems to be the best GPS watch to use when you are going open water swimming. I have spoken to a couple of swimmers about which one they are using and that one seems to be the pick of the bunch. If you are doing open water swimming and looking for a good watch to track your times then the Garmin Forerunner 910 XT is the one to go for.
How To Choose A Wetsuit

This week I spoke to Craig from Aqua Shop in Melbourne and I got him to explain some of the differences between the wetsuits and how to choose the right wetsuit with sizing, should it be sleeveless or should it have sleeves. If you want to know which wetsuit to choose then check out that video. VIDEO COMING SOON.
Swimming For Parents
If you are a parent of a swimmer and have kids that are swimming then I recommend you get Gary Barclays books, Swimming for Parents. It is a comprehensive book that talk about everything you need to know about having a child growing up in swimming; from dealing with coaches, to training, to diet everything in-between. If you are a parent I strongly recommend getting that book which you can find at the bottom of this video.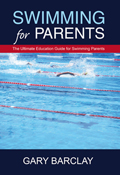 Swim Camps Are Training On Steroids
Like I mentioned at the start of the video we are up here on a training camp. If you can organise a training camp with your squad; you can go away, forget work and eat, sleep and swim then it is a great way to improve your fitness and also really good fun. We are up here and training hard, it is nice and hot as you can see and we are having a really good time and getting fit in the process. If you are a coach or a swimmer and you can organise that type of thing with your squad then it is really beneficial for your training.
That's it for new this week, we will see you next week.
---