Podcast: Play in new window | Download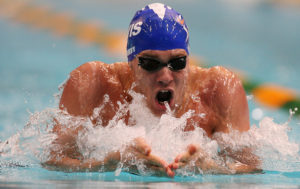 In this episode of the Effortless Swimming Podcast we have former Australian swimmer turned coach, Sam Ashby. Sam made the Australian swim team in 2011 and competed at the World Championships. Today he coaches at MLC Aquatic in Melbourne. We explore the challenges of transitioning from racing to coaching, how your motivations change and why all athletes should take on a coaching role to develop their swimming.
00:50 – Sam's Swimming Background
03:45 – Exploring Life Outside of Swimming
04:44 – On giving back…
09:45 – Guess who's a big kid?
12:40 – "If I had the opportunity, I'd still be swimming now."
18:28 – Why You Have To Swim Really Sloppy
19:25 – When the pain starts to overtake your brain…
26:44 – The Coach's Role in Building Athlete's Self-Confidence
30:32 – "I miss the camaraderie."
32:22 – How Writing Can Help You Explore.
---