Podcast: Play in new window | Download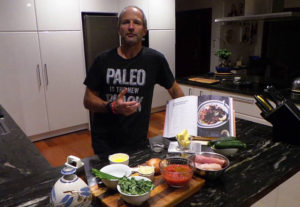 Andre Obradovic has been our guest before where he talked about how you can adjust your sleeping routines and habits so you can perform better in the pool.
In this podcast, Andre and I discuss how he went from overweight white collar worker to lean athlete, by challenging his own beliefs about nutrition.
02:00 – Andre's Journey to Weight Loss
03:00 – When Hunger Strikes
06:50 – The Food Diary Debunked
09:55 – 1 Minute Videos of What I'm Eating
15:05 – One of the guys lost 10 kilos!
19:05 – Why would we need chocolate drink?
19:34 – How To Create That Snowball of Feeling Better
20:09 – Eat this instead for breakfast.
21:19 – Have a salad for lunch.
27:01 – Shut up and take my money!
To learn more about Andre and his work, visit his website www.loseyourbelly.com.au
---